The SAP Business One Sales mobile application has been developed specifically for the sales department employees and allows them to work from anywhere and anytime.
Basically, the application is connected to SAP Business One and takes over only the data, activities and functionalities relevant for an efficient interaction with customers and the successful completion of transactions.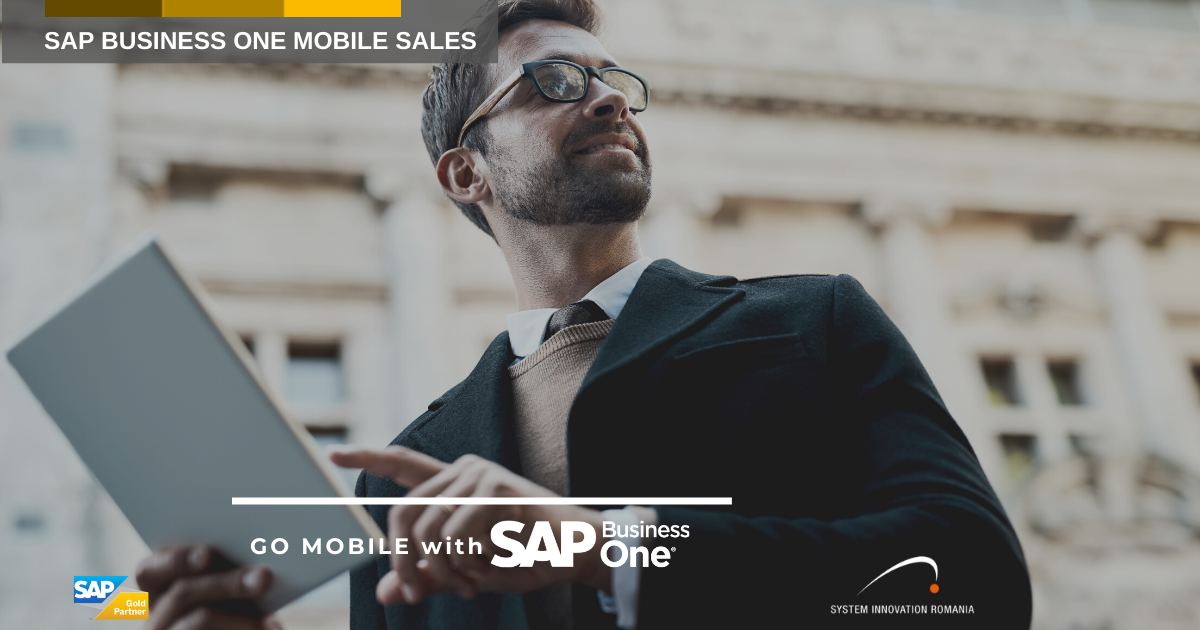 SAP pays special attention to mobility and therefore offers three mobile mobile applications for accessing the ERP system:
• SAP Business One Mobile App (general application for all categories of users)
• SAP Business One Service App (for service and customer support activities)
• SAP Business One Sales App (focused on sales team requirements)
Would it be more appropriate for field workers to access SAP Business One from a laptop via the web interface? The reality shows that using a laptop limits the freedom of movement, and mobile employees need access to information in a real way, from anywhere and anytime: in a face-to-face discussion with the customer, in the car, on the street, on a construction site, in a factory etc.
In such situations a laptop does not help, because it is difficult to handle, has a long start-up time, and the web interface was designed for clicking and working in the office.
On the other hand, mobile phones have become more and more efficient, on all levels: processing power, diagonal display, memory, brightness, dust protection and autonomy. There are also rubber covers, which allow the use of business equipment in industrial environments. Thus, mobile phones can successfully replace a laptop, and where a larger diagonal is needed, there is the option of using a tablet.
Key features of SAP Business One Mobile Sales
While SAP Business One Mobile APP provides a more general perspective and addresses a wide range of users, the Sales Mobile App has been developed specifically for sales employees. Both because their activity is carried out with predilection on the field (the pandemic did not completely stop customer visits either), and because customer relations involve access to specific sets of data and activities. The application completely covers the sales process, from the registration of a lead to the completion of the transaction, and manages all the stages, activities and documents associated with a sale.
SAP Business One Sales brings on the mobile phone both the relevant information for each customer and the opportunities with the highest chances of completion. From the first screen, the application allows you to view activities and record or edit opportunities, quotes, offers and orders.
Users can check the status of a customer, a transaction, order or product at any time. They also have access to relevant activity reports and indicators, depending on the job description. Basically, with the SAP Business One Mobile Sales App, when they are in the field, users can only do business with their mobile phone.
Basic functionalities
• Management of leads and opportunities (registration, qualification, prioritization)
• Order management (creation, editing, cancellation, document association)
• View KPIs and sales reports (top customers / products, order value)
• Contact and customer management (registration, editing, sorting, setting credit limits, inclusion in special categories, etc.)
• Requesting or granting approvals
• Access to calendar / tasks and detailed information about customers and partners (contracts, acquisitions, history)
• View, add and edit activities, offers, orders, special prices – Complex alert system on the most diverse criteria: credit limit, stock level, discount level, target
• Access to stocks, price lists and discounts (identification at the warehouse level)
• Cash flow monitoring and forecasting
• Sharing information and documents via e-mail
• Ability to work offline, with the synchronization of information when restoring the connection.
The SAP Business One Sales mobile application is available for iOS (at least iOS 8.0) and Android (5.1 or higher) and only works with the SAP Business One version for SAP HANA. Both versions can be used free of charge if there is an SAP Business One license (at least 9.2) or can be licensed separately and used exclusively. Setting up the ERP system to use mobile applications is easy, but still not very simple. Companies that do not have internal competencies can turn to System Innovation Romania for the necessary configurations.
Contact us at https://sysinconsult.ro/contact/ for a demo with SAP Business One Sales Mobile.