The Hessian company iCOGNIZE is launching the ScanVein Compact (SVC) this month – a new palm vein scanner for biometric authentication. It can be used to effectively secure any access areas in companies.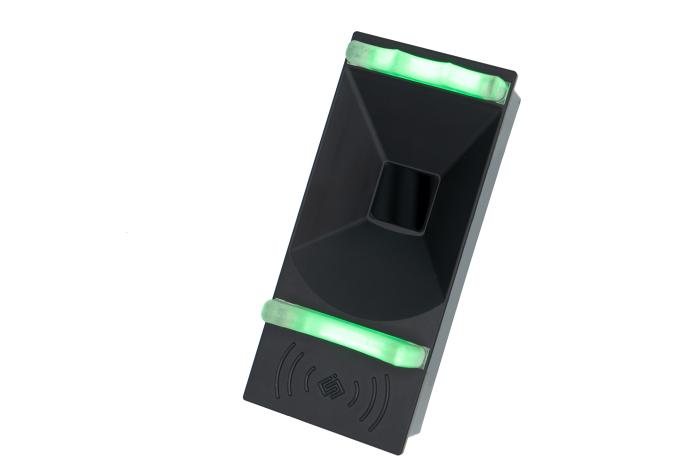 Access control of the future
With the ScanVein Compact, iCOGNIZE is ushering in a new era in product development: The new 2CON transmission technology has already been integrated into this biometric palm vein scanner. This technology will be used in all future iCOGNIZE products. It is a "network without network cabling" – a polarity proof 2 wire long-distance communication including power supply.
Like all iCOGNIZE products, the SVC can be integrated into almost any existing security system. This makes it intriguing for many industries: from areas in critical infrastructures to office buildings and coworking spaces. After all, every company has its "crown jewels" – and they deserve the best protection available.
Biometric authentication with palm vein pattern recognition is currently the most secure technology in the field of electronic access control
The SVC is based on PalmSecure technology: palm vein patterns are detected with near-infrared light and compared to a previously registered pattern for authentication.
Palm vein pattern recognition technology is virtually tamper-resistant since palm veins are beneath human skin and have individually unique characteristics. In addition, the SVC's sensor only recognizes the pattern when blood with deoxygenated haemoglobin is actively flowing through the veins.
Possible areas of application for the ScanVein Compact
Critical infrastructures such as airports, power plants, or data centers are facilities with the utmost significance for the community. System failure or impairment can have a destructive impact on public safety. Therefore, only authorized personnel must access these security areas. Here, the SVC comes in very handy: authenticating authorized individuals and granting them access.
However, biometric security technology from iCOGNIZE may also be interesting for other industries, e.g. small and medium-sized companies. These companies, too, need to efficiently secure their server rooms, since an act of sabotage can cause severe damage and have an enormous impact on the company's success.
In addition, every company has confidential data such as personnel files. Due to the European General Data Protection Regulation (GDPR), such data is subject to special protection with diligently regulated access authorization. The ScanVein Compact is a practical and secure solution for access control: it can be operated intuitively and with its fast authentication, it can even be used in highly frequented access areas.
With private properties, office buildings, or coworking spaces, the SVC completely replaces access cards – no more stolen, forgotten, or lost cards – while at the same time increasing overall access security.
The ScanVein Compact is hygienic, user-friendly, and offers maximum security
The SVC can be used with or without a hand rest unit. Without the unit, the process is contactless and particularly hygienic, as there is no contact with potentially contaminated surfaces. However, when using the hand rest unit, the unit can be automatically disinfected with UVC.
These features make the SVC interesting for many areas:
• Parallel use of RFID media within the same device
• Bluetooth Low Energy enables two-factor identification with smartphone and palm vein
• Integration of radio cylinders and radio locks is possible
• Haptic feedback of hand rest unit: users immediately feel a successful authentication
• Detection of sabotage
• Radar technology for person recognition: The SVC detects approaching individuals, even if they are not yet using the hand scanner.
• Data security through encrypted communication from scanner to a remote station
The slim design allows a wide range of both indoors and outdoors assembly: it can be installed on masonry and similar surfaces or flush-mounted. It is also possible to integrate the SVC into the facade of the building.