When we open this shiny box with our new computer, we think only of how great it will work. Our machines work smoothly, and we rely on them with all our everyday tasks. Unfortunately, in the world that changes almost every day, a meticulously selected equipment bought a year ago, today, may no longer be sufficient. New systems, new applications, a whole lot of collected data put a strain on home or company computers. This means, that every day we feel that our machines work slower and slower and we realize sooner than we expected that our favorite computer barely breathes.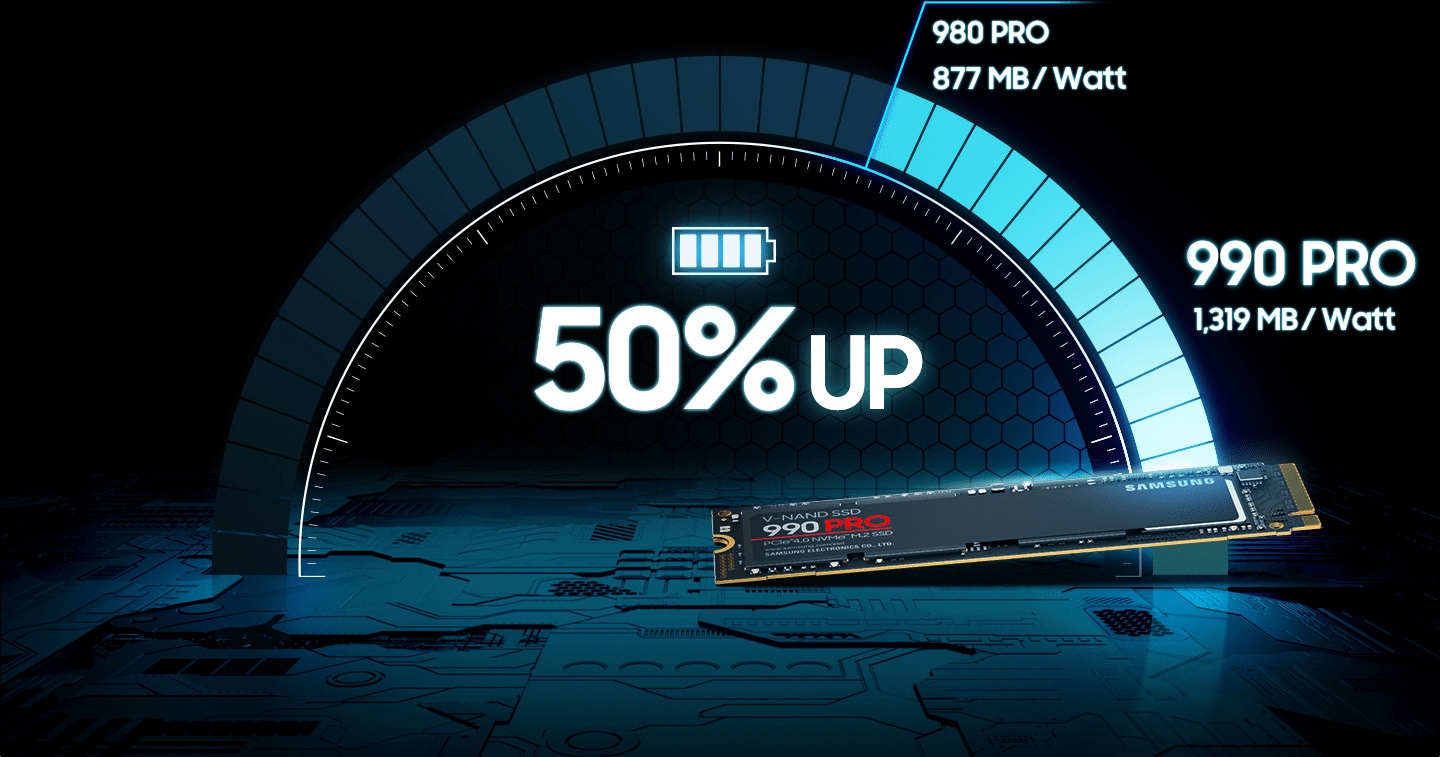 After a while we start to think of next steps – we organize data, we make backups, we clean up drives, but our devices still do not perform as fast as we need them to. When we realize that not only is the world accelerating, but also our needs are growing, we are faced with the question: isn't it time to replace our computer with a new one? Is there any way not to buy the new, expensive equipment every now and then, endangering not only our pockets, but also the planet?
Samsung Memory brand holds the answer to the above question, offering users a series of solutions that have been created to significantly increase the capabilities of our computers, gain an amazing new quality, speed, and safety of operation at the same time without having to part with our beloved laptop.
Samsung Memory offers internal and external drives, memory cards and pen drives.
All these products will help us to refine the quality of everyday tasks quickly and smoothly. When seeking to improve how our computers work, among others, one should look at Samsung Memory internal drives portfolio – especially SATA and NVMe drives, which give a significant boost in storage capacity and performance.
The revolution is here
A quick reassessment is enough to realize that the improvement of quality between HDD and SSD drives has been going on for a long time. Since SSD drives have appeared on the market, one should start the research for the right equipment all over again. That is why we are here to help you decide to decide and find equipment that will fully meet your needs, but also the requirements of your equipment.
Why SSD (and why not HDD anymore)?
SSD means faster launching and loading applications, copying files, multitasking, durability.
The SSD drive it has no moving parts, like in the HDD disk, what gives much greater safety of use.
Internal SSD drives worth mentioning are SATA and NVMe. Its most important parameter – the read and the write speed which is even 12 times faster than in the HDD. Additionally, the speed of the SSD drive is constant, regardless of the data load, whereas HDDs slow down when are full.
SATA – your reliable friend with the biggest capacity at heart
Firstly 870 EVO SSD, is one of the company's SATA solutions in its world's best-selling consumer SSD series.1 This drive combines best-in-class performance and reliability, making it an all-round storage solution for a wide range of consumers from general PC users to IT professionals.

The Samsung 870 EVO features the company's latest V-NAND and controller, allowing it to reach the maximum SATA sequential read and write speeds of 560 and 530MB/s, respectively. Using a large variable SLC buffer, the drive's Intelligent TurboWrite technology helps maintain its peak performance levels. The 870 EVO also delivers a nearly 38% improvement in random read speed over the previous 860 model,2 enabling enhanced user experiences when multi-tasking, web browsing or simply booting up PCs.
Harnessing its accumulated experience and expertise in storage memory technologies, Samsung designs all SSD components in-house to ensure that every part works together cohesively. As a result, the 870 EVO offers around 30% improvement in sustained performance over the 860 EVO,3 as well as a class-leading terabytes written (TBW) rating of 2,400TB,4 or a 5-year limited warranty, for its 4TB model.5
In addition to exceptional performance and reliability, the 870 EVO provides broad compatibility with many computing devices and the most up-to-date PC features. The drive can be used with all devices that have 2.5-inch SATA interface connection. Moreover, with its power saving sleep mode, the 870 EVO is compatible with devices that support Window's Modern Standby function, offering added convenience to PC users.6
Secondly – QVO 870 These are second-generation quad-level cell (QLC) flash drives. The 870 QVO SATA SSD, sets a new standard for high-capacity consumer storage. Featuring an industry-leading capacity of up to eight terabytes (TB), the new SSD delivers an uncompromising mix of speed, storage capacity and reliability for mainstream and professional PC users.
Samsung's 870 QVO SSD is an optimal choice for mainstream PC users who prioritize performance and value, as well as for professional users who require high levels of capacity.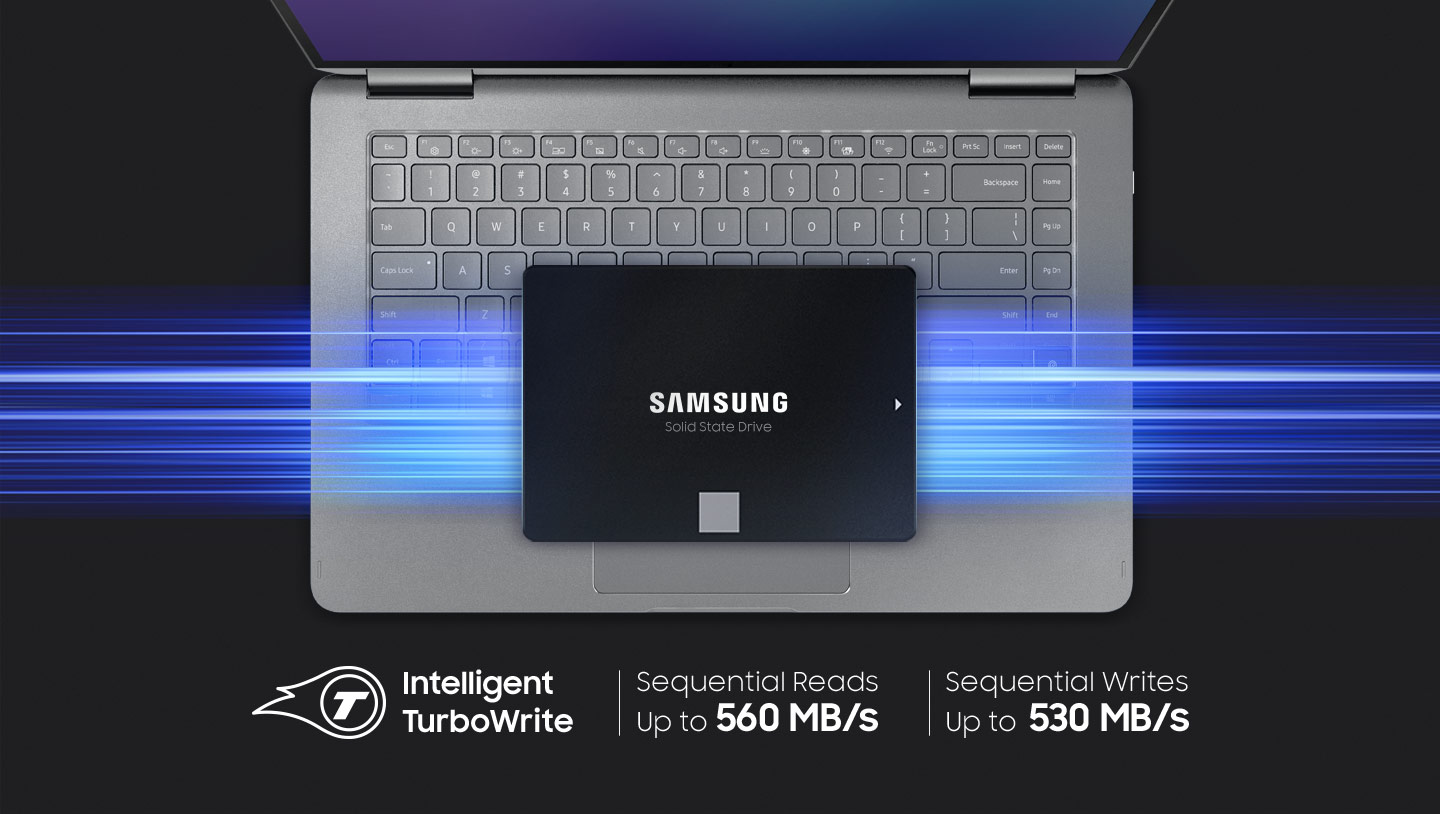 The 870 QVO offers best-in-class sequential read and write speeds of up to 560 MB/s and 530 MB/s respectively,7 with the drive's Intelligent TurboWrite technology allowing it to maintain peak performance levels using a large variable SLC buffer.8 The 870 QVO also delivers a 13% improvement in random read speed9 compared to the 860 QVO, making it ideally suited for everyday computing needs such as multitasking, gaming and web browsing. The renewed Data Migration and Magician 6 softwares provide a host of improved and added features, enabling users to upgrade, manage and optimize their SSDs with greater ease.
In addition to the industry-leading capacity and performance, the 870 QVO provides an exceptional endurance rating of up to 2,880 terabytes written (TBW), or a three-year limited warranty.10
NVME for those who need speed and immersion
The NVMe interface has been designed specifically for SSD drive in order to exceed the current speed limitations of data transfer occurring in older interfaces. Sequential read and write speeds are even 12 times faster than SATA SSD.
Models to look at are 990 Pro and 990 Pro with Heatsink – these are the newest products that were just introduced to the market. This is High-Performance 990 PRO SSD Optimized for Gaming and Creative Applications
Blazing speeds of the 990 PRO cut load times and increase game responsiveness while its thermal control solutions keep the drive at optimal temperature for uninterrupted play.
This high-performance NVMe SSD drive is based on PCIe 4.0, delivers lightning-fast speeds and superior power efficiency. This new SSD is optimized for graphically demanding games and other intensive tasks including 3D rendering, 4K video editing and data analysis.
Extreme Performance for an Immersive Gameplay Experience
Featuring Samsung's latest V-NAND and a new proprietary controller, the 990 PRO series offers the highest speed currently available from the PCIe 4.0 interface.11 The SSD delivers sequential read and write speeds of up to 7,450 megabytes per second (MB/s) and 6,900 MB/s, respectively, while random read and write speeds come in at up to 1,400K and 1,550K IOPS,12 respectively. With up to a 55% improvement in random performance over the 980 PRO, the 990 PRO is particularly well-suited for heavy gaming as well as creative and productivity tasks.
High-performance NVMe SSDs are also critical in reaping the full benefits of the latest game console and gaming technologies. Powered by NVMe, the 990 PRO brings faster loading times to PCs and consoles for a more immersive gaming experience. When tested with Forspoken,13 Luminous Productions' forthcoming action role-playing game supporting the latest game-loading technology, the map loading time was about one second, compared to four seconds for a SATA SSD and 28 seconds for a hard disk drive (HDD).
Ultimate Power Efficiency and Reliable Thermal Control
Built on a low-power architecture, Samsung's newly designed controller dramatically improves the SSD's power efficiency by up to 50% compared to the 980 PRO.14 Additionally, the 990 PRO employs a nickel coating on the controller and a heat spreader label on the drive for reliable thermal management. Samsung's Dynamic Thermal Guard technology further ensures that the drive's temperature stays in the optimal range.
The 990 PRO with Heatsink version offers an additional layer of thermal control while its RGB lights add more style to the drive.
Samsung's 990 PRO is also an excellent solution for laptop and desktop upgrades as well as for build-your-own PCs, providing a significant performance boost while using less power for increased battery life and thermal management.
What are the benefits you can count on by choosing a new Samsung 990 PRO NVMe Drive?
First – by keeping your beloved device, you significantly improve the speed of its performance. These drives are much more durable – they are resistant to shocks, which greatly increases the security of your data. They are quiet and easy to install, and thanks to Samsung's data transfer application, the whole process can be almost seamless and in just a few steps. In addition, no moving parts gives you better sense of security. And finally, extremely important aspects – saving money and taking care of the planet.