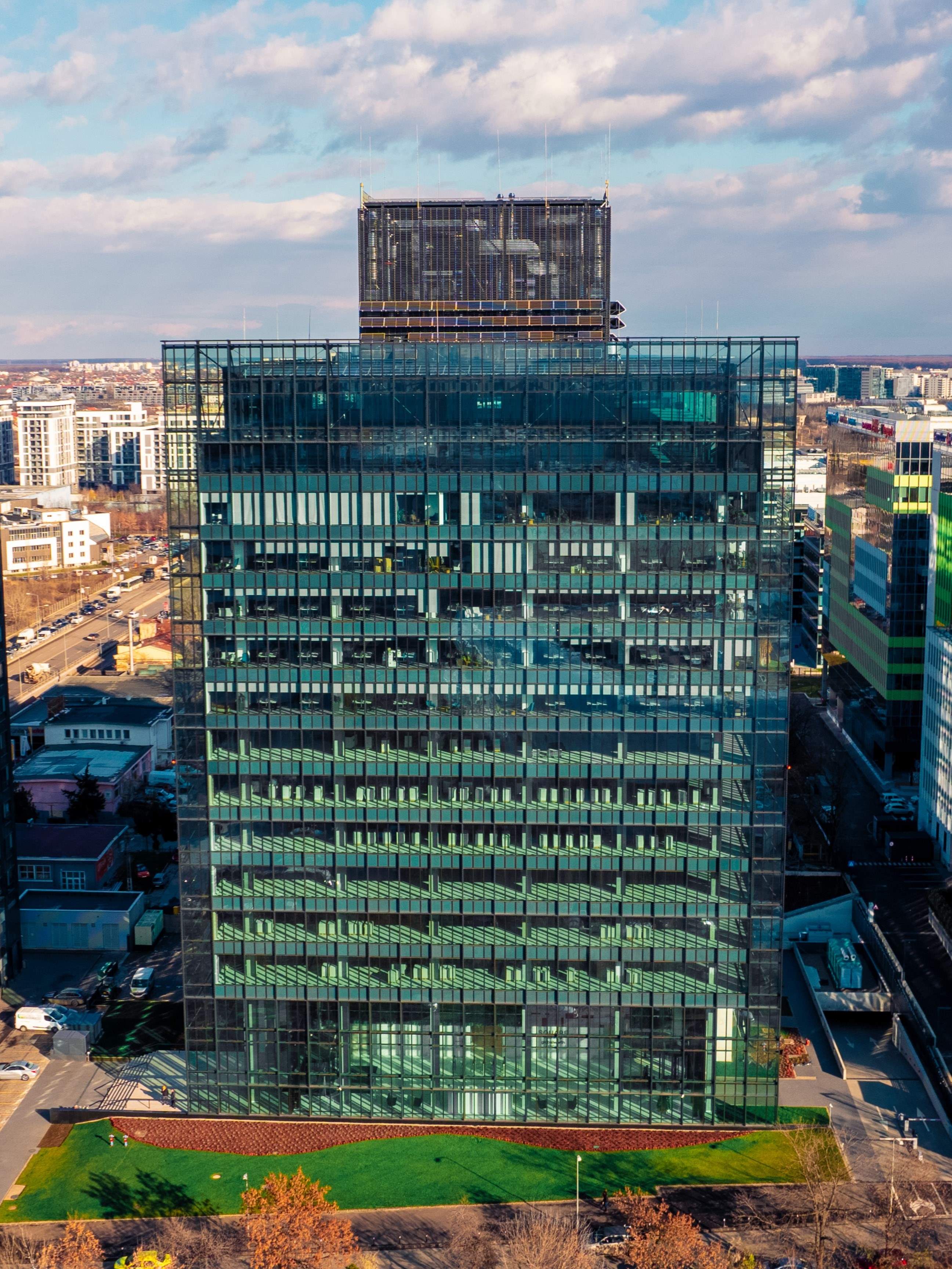 Globalworth, the leading office investor in Central and Eastern Europe (CEE) and the leader of the Romanian office market, announces that it has signed an agreement with eMAG, CEE's ecommerce shopping destination, to set up its headquarters as a tenant in the state-of-the-art building Globalworth Square in Bucharest, one of the highest-ranked buildings in Globalworth`s portfolio.
The newly signed deal would be the largest new lease contract so far this year in the office real estate landscape in Romania. The space made available to eMAG measures no less than 10,000 sqm GLA and will benefit from the fit-out extended service provided by Globalworth`s Workplaces division. Globalworth has managed to provide its partners so far with more than 250,000 sqm of fited-out office spaces.
The building is part of the Globalworth District in the north of the capital and has a total leasable area of 29,000 sqm, spread over 3 underground levels, ground floor and 15 upper floors, plus 1 tech level, with a typical floor plan of 2,130 sqm.
After the conclusion of the new agreement between eMAG and Globalworth, the building has reached a 100% occupancy rate.
"eMAG is one of the biggest players in the e-commerce sector and a company that has unlocked  so many business verticals from grocery delivery and food delivery from restaurants to a marketplace for selling used phones. To be welcoming them into our business community is an inspiration on so many levels. Looking forward for this exciting new period together, a time to foster growth for our prominent new partner", said Ema Iftimie, Head of Leasing at Globalworth Romania.
"eMAG has grown at a fast pace during the past years entering a new stage of development. We want what is best for our colleagues and based on their opinions voiced through our internal surveys, we know this is a desired change. We are happy to establish our head office in such a state-of-the-art building that embeds high sustainability standards. We will continue our journey and our hybrid way of working in a welcoming space that people find inspiring and enjoy working in. The new space will accede premium fit-out solutions to reflect our personality and way of doing amazing projects", added Cosmin Dodoc, VP People and Organization at eMAG.
The deal was facilitated by the real estate consulting company Cushman & Wakefield Echinox, which was represented in transaction by Monica Vasile, Director Office Agency and Eduard Turcoman, Director Office Agency.
"We are thrilled and honored to be involved in a new important lease transaction for the Bucha-rest market. The activity on the office market remains strong as many companies continue to deter-mine their office space needs and to improve the workplace experience for their employees", added Monica Vasile & Eduard Turcoman, Office Agency Directors at Cushman & Wakefield Echinox.
Globalworth Square offers a great geo-positioning, with easy access to public transport and shopping areas. The iconic building in Globalworth`s portfolio features cutting-edge health and safety systems, including advanced air filtration and UV-C light disinfection. The building's eco-friendly cooling system is unique for a class A office building in Romania, ensuring very low energy consumption.
Combining smart technology with vintage accents, Globalworth Square was completed in 2021 and is the highest ranked BREEAM Outstanding building in Romania and the third in the world with this green certificate.