Vodafone's Christmas offer is available starting today on www.vodafone.ro/easytech and in physical stores and includes all the product ranges gathered on the Vodafone EasyTech commercial platform, namely smartphones, electronics, small appliances, gadgets, IoT solutions.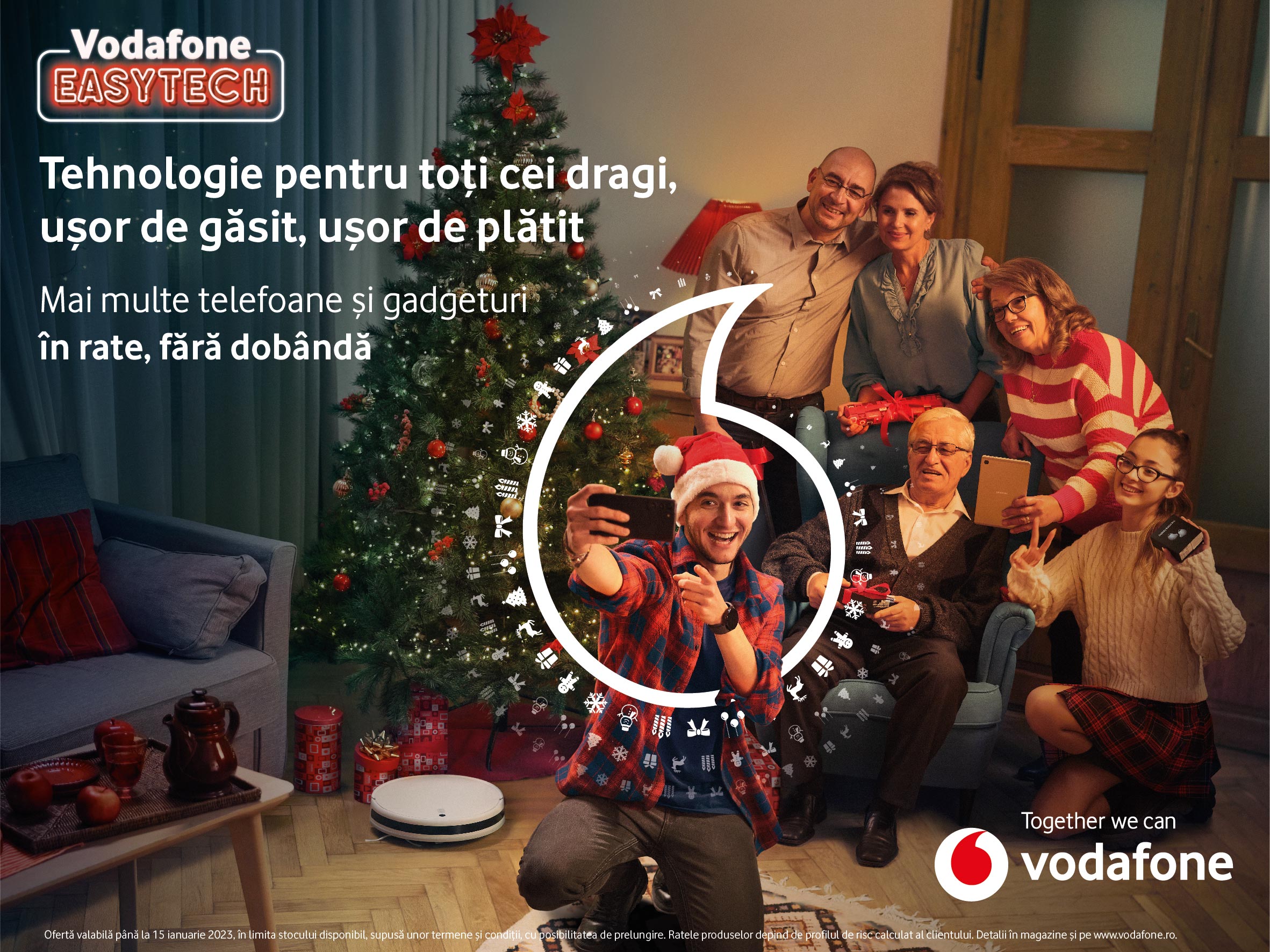 The novelty consists in the fact that users can associate two or more products to their fixed or mobile services subscription and pay in instalments (up to 36 monthly instalments), without interest. Thus, customers can afford to choose more gadgets for themselves, but also to give them to their loved ones, all available in one place and saving time and money.
From smartphones, to smart TVs, smart bulbs or sockets, smartwatches, headphones, robot vacuum cleaners, customers have a multitude of ranges and models to choose from, depending on eligibility, to purchase together with a mobile subscription or fixed service package. The monthly instalments will be equal and the interest zero, regardless of the chosen subscription. The offer is available both to customers who choose to port to the Vodafone network and to existing customers, who can purchase multiple devices in instalments, without interest, depending on the subscription they hold.
The Galaxy Watch5 4G smartwatch can be purchased during this period for a monthly rate of 8.2 euro and, for those looking for a smartwatch, Vodafone's Christmas offer also includes the Huawei Watch GT3 Pro model for 11, 6 euro/ month. Samsung Galaxy Buds2 Pro headphones can be found in the Holiday offer in monthly instalments of 5 euro/ month, and from 5.5 euro/ month, the robot vacuum cleaner Mi Robot Vacuum-Mop 2 Lite.
Smartphones will always be a successful Christmas gift and with Vodafone EasyTech, the Samsung Galaxy A53 can be purchased with a monthly rate of 9.4 euro, interest-free, along with any mobile service subscription. Honor 70 5G model is also available with a rate of 13.8 euro/ month. Vodafone's Christmas offer also includes electronics: the LG 50″ smart TV can be purchased for 13.3 euro/ month with a fixed or mobile services subscription.
Vodafone Christmas offer is being promoted through an integrated communication campaign running on TV, radio, outdoor, cinema, digital and in stores under the concept "Technology for all loved ones, easy to find, easy to pay". The EasyTech Christmas story is built around generosity: it's easy to be Santa Claus when you can afford modern gifts that the whole family wants. Vodafone is close to all customers to offer them the complete solution for cutting-edge technology: multiple devices and affordable services.
Vodafone's Christmas offers are available at www.vodafone.ro/easytech, in its own and partner stores.